This self-directed course features course content from the Knight Center for Journalism in the Americas' massive open online course (MOOC) titled "Going live: Building live journalism in your newsroom". The four-week course took place from February 14 - March 13, 2022.
Thanks to support from

The course was taught by Kim Last, editor of live journalism & special content for The Wall Street Journal. She created and curated the content for the course, which includes video classes, readings, exercises, and more.
 The course materials are broken into four modules, along with an introductory module:
We encourage you to watch the videos, review the readings, and complete the exercises as time allows. The course materials build off each other, but the videos and readings also act as standalone resources that you can return to over time.
We hope you enjoy the materials. If you have any questions, please contact us at journalismcourses@austin.utexas.edu.
Meet the Instructor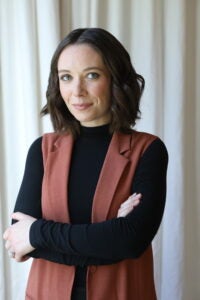 Kim Last is the head of live journalism and special content for The Wall Street Journal, serving as the top editor for live and virtual events organized by the newsroom. In her current role, Ms. Last oversees the team of journalists who shape the ideas, source the speakers and shepherd the subsequent news coverage that stem from Journal events. Ms. Last joined the Journal more nearly four years ago as deputy editor on the live journalism team where she expanded the popular Future of Everything Series, serving as its editorial director. Prior to joining the Journal, she led conference development at Vox Media, working alongside the Recode and Vox.com teams. Ms. Last also worked as a senior editor at Fast Company where she launched the inaugural Fast Company Innovation Festival and led special projects across print and video. A native New Yorker, Ms. Last studied political science and American studies at Washington College in Chestertown, Maryland. She lives in Brooklyn, NY with her husband and miniature poodle.

Introduction Module: What is Live Journalism?
How do you build a successful live journalism department in your newsroom? Spanning beyond conferences, live journalism is an opportunity to build news-generating moments in real time in front of a live audience. Live journalism events tap the unique opportunity to build community amongst readers and a pipeline of new audiences.
This module will cover:
- What is live journalism?
- How to use live journalism to build loyalty with new audiences and current subscribers
- A preview of how to resource your team, identify franchises that matter, deliver dynamic interviews and experiment with new formats
Introduction
1. Welcome video
2. Course syllabus
Materials
1. Inside the in-person return of Pop-Up Magazine and how the storytelling tour rekindled a community of fans [Kayleigh Barber, Digiday]
2. As the pandemic recedes in the United States, publishers opt to keep experimenting with virtual events [Hanaa' Tameez, NiemenLab]
3. Bloomberg Media is testing paid tiers for virtual events [Sara Guaglione, Digiday]
Module 1: Embracing Virtual Formats
In this module, you'll learn how to best leverage virtual formats for your audience, at a time when the pandemic has reshaped how media organizations approach live events.
This module will cover:
- Components of a successful virtual event
- Formats
- Leveraging video - what works, what doesn't
- How to build audience interaction in real time and ahead of an event
Video Classes
1. Embracing Virtual Formats — part 1
2. Embracing Virtual Formats — part 2
3. Virtual Event Formats
4. Event Checklist
5. Checklist: Event Basics
Readings
Module 2: Designing Your News Event: Service Versus News
Not all news events are designed the same. This module will examine the building of newsmaker events versus events that serve community interests, offering tips for how to best leverage your newsroom's strengths and your audience's interests.
This module will cover:
- Community versus newsmaking events
- Standards and ethics
- Drawing inspiration
Video Classes
Readings
Module 3: Tapping into Coverage
Learn how to best leverage content stemming from a news event. In this module, we will discuss what makes a robust coverage plan.
This module will cover:
- Leveraging newsletters
- Utilizing video clips Building podcast opportunities
- Building podcasts should be separate bullet
- Distribution - On platform v external
Video Classes
1. Coverage Plans — Part 1
2. Coverage Plans — Part 2
Readings
Module 4: Acing Your Performance
Live journalism does require journalists to "perform," whether that is on stage in front of a live audience or in front of a camera, streaming to hundreds or thousands. We will break down multiple methods for interview and session preparation.
This module will cover:
- Research methods to deliver your best live interview
- Designing sessions to move beyond talking points
- Working through stage fright
- Writing short, clear questions
Video Classes
1. Preparing for your Live Journalism Session
2. Behind the Process: Meet Joanna Stern
Readings