Digital Storytelling for the Next Generation of Latinx Journalists: Apply now for free online course offered by Knight Center and Microsoft
When the U.S Government Accountability Office analyzed the presence of Hispanic workers in the media industry last year, at the behest of congress, it found discouraging results.
In 2019, Hispanic workers made up 12 percent of the media industry, compared to 18 percent in all other industries. The percentage of Hispanic workers was fairly steady from 2014 to 2019, hovering around 11 to 12 percent.
Moreover, Hispanic workers held just 8 percent of professional positions in the media industry, according to EEOC data analyzed for the report.
To improve representation of Latinx storytellers in the media industries, the Knight Center for Journalism in the Americas and Microsoft are teaming up to offer a free online course for Latinx college and university students in the United States.
"Digital Storytelling for the Next Generation of Latinx Journalists" runs for four weeks from June 20 to July 17, 2022. College and university students who aspire to become journalists or are already working in scholastic media are invited to apply now for this free course.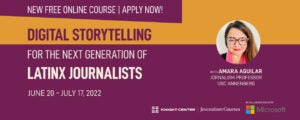 "This is a really unique opportunity for Latinx college students to prepare for a career in the media industry by elevating their storytelling skills," said course instructor Amara Aguilar, a professor at the USC Annenberg School for Communication and Journalism. "A few of the topics that we will cover include developing your digital presence, using TikTok and social media to embrace and tell your own story, exploring new tools to elevate your journalism. We'll also have a session on real talk – challenges and advice, as well as a look at the future for the next generation of Latinx journalists."
Latinx students enrolled at a college or university are invited to apply for the course via a simple form. Those who are admitted will be notified and receive instructions on how to enroll.
The four weeks are divided as follows:
Module 1 looks at creating a personal brand, exploring identity and reviewing social media best practices
Module 2 shows how to use TikTok and social media for storytelling, including building a strong narrative and embracing your own story and culture
Module 3 gives tips and tools to elevate journalism, including using M365 and other free tools
Module 4 focuses on real-talk from professionals in the field, looking at challenges faced by Latinx students and journalists, advice and resources
Each module will be led by Aguilar, who  teaches journalism for mobile/emerging platforms, social media storytelling for Latinx audiences, visual journalism, engaging diverse communities, and more at USC. She has written for Los Angeles Times, CNN, Nieman Lab and others, and has been a trainer for the AP, NFL and others. She is a co-editor of the book Reporting on Latino/a/x Communities: A Guide for Journalists. She also co-founded Annenberg Media's bilingual outlet, Dímelo.
"I've been in the students' shoes. I was a Latina student in college and I studied journalism so I am aware of some of the experiences they might face, as well as some of the challenges they might face," Aguilar said. "This course really speaks to those experiences."
For example, she said Module 4 will look at challenges like imposter syndrome and discrimination, offering advice on how to navigate those kinds of issues.
Aguilar will teach the course using video lectures, presentations, readings, discussion forums and quizzes, following the Knight Center's model of online teaching that in the last decade has reached more than 270,000 students from 200 countries and territories.
She'll also be joined each week by special guest speakers, including Rolling Stones reporter Tomás Mier, Vox audience engagement editor Gabby Fernandez and Microsoft's Cynthia Reynaud. Module 4 will feature a panel discussion with Lorena Bouvedaire from The Huffington Post, Eric Resendiz of ABC7, Erick Galindo of KPCC and LAist, and Astrid Kayembe of Report for America. There will also be a discussion on the future of journalism with Fernando Hurtado of NBC and Ashley Alvarado of KPCC and LAist.
"I tried to choose people with a variety of backgrounds and experiences," Aguilar said. "I wanted students to hear from journalists with diverse backgrounds and unique perspectives. I also featured journalists who work on a variety of platforms and who are relatively early in their career. Many students may relate to these experiences as they look to enter the media industry."
Those who successfully complete course requirements will earn a certificate of participation at the end of the course. There is no formal credit of any kind associated with the certificate issued by the Knight Center.
"The storytellers of tomorrow need to reflect the realities of today. We believe technology has the power to enhance and transform storytelling, and we want to help this next generation of Latinx students have access to the information and tools that will allow them to play an integral role in the growth and future of the media industry," said Lisa Polloni, global communications lead for Americas, Microsoft. "We are so proud to partner with the Knight Center for Journalism in the Americas in this endeavor given its extensive experience developing courses that provide students with the skills they need to be successful in this ever-changing field."
"We are very excited by this opportunity to partner with Microsoft to offer this free course for many reasons, including the fact that this is the first Knight Center program specifically designed for college and university students who aspire to become journalists," said professor Rosental Alves, founder and director of the Knight Center. "And we are more excited because this course will help young Latinx with practical skills that will contribute to jump start their careers in the media industry."
This course is asynchronous, meaning course activities can be completed on your own schedule. There are recommended deadlines in place so you don't fall behind.
"I think this is an amazing resource for Latinx students. I wish there was a resource like this when I was a student," Aguilar said. "I hope that students can take advantage of this because it really is going to elevate their storytelling, it's going to strengthen their journalism, and we're going to talk a lot about identity and culture, so it blends a lot of really important issues for many Latinx students."
So, make the best of your summer and apply for this great learning opportunity today. Not only will you learn from the best in the business, but you'll have a chance to explore your own brand, identity and form meaningful connections with your peers.