ISOJ returned in 2022 as a hybrid conference, with nearly 300 people in Austin and almost 1,000 virtual attendees from 90 countries
After two years of being a virtual-only conference due to the pandemic, the International Symposium on Online Journalism (ISOJ) returned in person and online, and in full force, from April 1 to 2, 2022.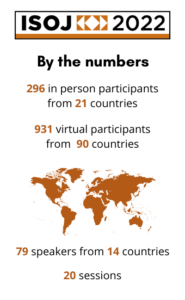 The 23rd ISOJ was an innovative hybrid conference, with 1,227 registrants, 296 in person and 931 online.
Once again, ISOJ was a truly global event! In-person registrants represented 21 countries, from the U.S. to Argentina, from Hong Kong to Norway. Virtual registrants came from 90 countries, including Brazil, Kenya, Philippines and Spain.
The symposium featured 79 speakers from 14 countries who discussed some of the most important trends in the news industry and a variety of topics, everything from press freedom, to subsidies for news, to mental health, to audio journalism, to local media. In this eventful conference, there were four keynote sessions, 10 panels, a lightning session, a research breakfast, four workshops and a welcome party.
As is tradition, ISOJ featured simultaneous interpretation to Spanish.
"It was an emotional return to in-person gathering," said professor Rosental Alves, who has organized the symposium since 1999. "We were all excited about getting together again. For many people who flew to Austin from abroad or from different parts of the United States, this was the first trip in two or three years. For those of us at the Knight Center, it may have been the most difficult conference to put together, starting with hesitation due to the uncertainties of the pandemic."
For the first time, ISOJ was held at a new facility of the University of Texas at Austin, the Zlotnik Family Ballroom at the AT&T Hotel & Conference Center. Although previous symposia activities had been streamed for years, this time the symposium became a truly hybrid conference, with new ways to enhance participation of attendees who could not travel to Austin. Virtual attendees had access to ways to meet speakers or even participate in a welcome reception, all remotely but replicating some of the characteristics of in-person gatherings.
For example, ISOJ launched "Meet & Greet" sessions, video calls for remote attendees to have more direct and informal conversations with speakers. The first "Meet & Greet" session was with Nykia Wright, president and CEO of the Chicago Sun-Times. Ray Soto, senior director of emerging tech at Gannett/USA Today Network; Janine Warner, executive director of SembraMedia; and David Skok, founder and CEO of The Logic, in Canada, also had a chance to talk with virtual attendees of ISOJ.
Virtual participants of ISOJ were also able to remotely attend the welcome reception in Austin, but have their own party via the event platform Shindig, which allowed for video chats and streamed what was going on at the Austin party. This year the traditional ISOJ welcome reception was the "Moody Party," sponsored by Moody College of Communication at the University of Texas at Austin, which hosts the Knight Center, organizer of ISOJ. Virtual attendees on Shindig could hear the performance of Austin's  jazz group, the Jon Klekman Trio, featured at the Moody Party.
Video recordings of all panels, including those with interpretation to Spanish, have been available exclusively to ISOJ virtual and in-person attendees, but will eventually be made public, following another tradition of the conference — all videos of previous symposia, since 1999, are available online on the ISOJ website. In the coming months, transcripts and slides from ISOJ 2022 presentations will also be made available. For now, you can find coverage of the conference at isoj.org/news/ and photos on Flickr.
Research presented during the panel on "AI and the News" is available in the peer-reviewed #ISOJ Journal, Volume 12, Number 1, which is available to download for free at isoj.org/research/.
We thank everyone who attended this unique conference in person or virtually and made ISOJ a success. And we want to give special recognition to ISOJ sponsors, Knight Foundation and Google News Initiative.
Please visit our website at isoj.org or follow us on Twitter, Facebook, and LinkedIn. You can also follow social media coverage of the symposium using #ISOJ2022. If you have any questions, please contact us at isoj@austin.utexas.edu.
ISOJ, which began in 1999, brings together journalists, media executives, scholars and students to discuss the impact of technology on journalism today and in the future. It is an innovative conference that bridges the gap between the news industry and academia. View video and coverage of past ISOJ conferences at isoj.org.