2022 Year in Review: Knight Center celebrates its 20th anniversary, reaches 22,000 journalists with online courses and secures funds for the next five years
In 2022, the Knight Center produced a wide range of online courses, webinars, conferences, and publications that reached thousands of journalists and journalism educators from around the world.
We also celebrated the Center's 20th anniversaryand gathered stories about the impact our programs have had over the past two decades. In timing with our anniversary, the Knight Center received $4M from the John S. and James L. Knight Foundation — a generous grant that will pave the way for a sustainable future for the Center and its world-renowned programs.
As this celebratory year comes to an end, we're reflecting on the programs we've offered in 2022 with gratitude for all the people who took part in these programs and all the partners and funders that helped make them possible.
Here are some highlights from our work in 2022:
Journalism Courses
The Knight Center's massive online courses have reached more than 285,000 people from 200 countries and territories since 2012. In 2022 alone, the Knight Center held 18 massive online courses that reached 22,125 students from more than 150 countries. We also offered 16 self-directed courses, which are freely available on our JournalismCourses.org website.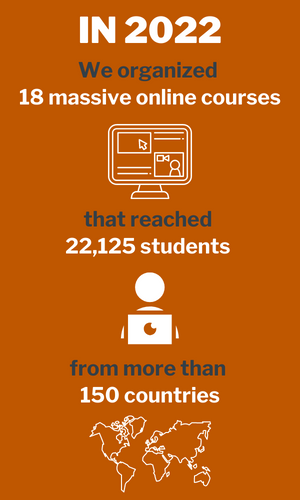 Our online courses were taught by leading journalists who shared their expertise on topics such as mental health for journalists; entrepreneurial journalism; photogrammetry; live journalism; hands-on mapping; how to promote diversity, equity and inclusion (DEI) in Latin American journalism; and digital storytelling for the next generation of LatinX journalists. We worked with numerous organizations that helped make these courses possible, including the Knight Foundation, Google News Initiative, UNESCO, UNDP, Microsoft, the Climate and Land Use Alliance, SembraMedia, the Self Investigation, and the Carter Center.
We offered several multilingual courses over the past year, including a course on how to cover the climate crisis and fight disinformation. The course – which was taught by longtime journalist-turned professor John Schwartz and sponsored by Google News Initiative – attracted 3,801 students from 151 countries.
Additionally, we offered the multilingual  course, "Information and Elections in the Digital Age," in English, Spanish, Portuguese, and French, and reached 5,330 students from 162 countries. The course, held with support from UNESCO and the United Nations Development Programme, taught students about the standards of freedom of expression and how to address various forms of disinformation, misinformation and hate speech that spread during electoral processes.
We already have some exciting courses lined up in 2023, and we hope you'll join us for our first course of the new year – a MOOC on explanatory journalism, taught by Bloomberg's John O'Neil. You can find more details, and register, here.
International Symposium on Online Journalism
We held the 23rd annual ISOJ on April 1 and 2 in an innovative hybrid format, online and in person at the University of Texas at Austin. The conference attracted 1,227 participants (296 in person and 931 online) from 90 countries.
ISOJ featured four keynote sessions, 10 panels, a lightning session, a research breakfast, four workshops, and a welcome party. We convened 79 international speakers who discussed some of the most pressing issues in journalism today.
Speakers included: Gina Chua, executive editor of Semafor; Katrice Hardy, executive editor of The Dallas Morning News; Richard Gingras, vice president of news, Google; Charo Henriquez, editor of newsroom development and support at The New York Times; Flavia Lima, editor of diversity at Folha de S. Paulo; Maggie Penman, an executive podcast producer at The Washington Post; Jorge Ramos, news anchor at Univision Noticias; Natalia Viana, cofounder and executive director of Agência Pública; Steven Waldman, president and co-founder of Report for America; Janine Warner, cofounder and executive director of SembraMedia; Keith Woods, chief diversity officer at NPR; and Laura Zommer, executive director of Chequeado. We also heard from researchers who contributed to the 12th volume of #ISOJ, the official ISOJ research journal. This year's issue was centered on the special theme of AI and News, and it was guest edited by the University of Oregon's Dr. Seth Lewis.
This year, we went beyond web streaming and created a truly hybrid conference that allowed new ways of participation by remote attendees. Attendees spoke highly of the event, saying it provided them with much-needed connections and learning opportunities.
In the words of one attendee: "ISOJ is undoubtedly the most important online journalism conference in the world. It has established an excellent dialogue between academia and the journalistic industry/practice, in a win-win relationship for everyone."
The videos of all ISOJ sessions are available on our ISOJ 2022 archive page, edited session-by-session, and they're also on YouTube in English and in Spanish.
Ibero-American Colloquium on Digital Journalism
In April, we held the 15th annual Iberian-American Colloquium on Digital Journalism in person and online. The conference, which was in Spanish, was held the day after ISOJ for participants from Latin America, Spain, and Portugal. Nearly 60 people from 10 countries in Latin America, as well as Spain and the U.S., attended this year's colloquium in person on the campus of the University of Texas at Austin. Additionally, hundreds of people tuned into the livestream of the event.
This year's colloquium featured an impressive lineup of 30 speakers from throughout Latin America. The colloquium's keynote speaker was Borja Echevarria, managing editor of the Spanish leading newspaper El País. He delivered an engaging talk about the success of El País' digital subscription, which was launched at the beginning of the pandemic in 2020. His talk was followed by other sessions of interest to journalists in Latin America.
The first focused on the successes and challenges of the Velocidad Fund, which helped several innovative news startups in Latin America to diversify their revenue streams and become self-sustainable. We also heard from four Nicaraguan journalists who gave testimony about the dire conditions for journalism in their home country and discussed how they've overcome obstacles in the field and in exile. During the final panel, fact-checkers from Latin America and Spain stressed the importance of collaboration. To close out the event, seven journalists from the region delivered five-minute lightning presentations on innovative projects and lessons learned in recent years.
Efforts to train journalists on DEI, COVID & more
The Knight Center held several online events this year aimed at helping to train journalists around timely topics such as the pandemic and the importance of diversity, equity, and inclusion in journalism.
In January 2022, the Knight Center organized the webinar, "Variants, vaccines and medications: What journalists need to know to improve COVID-19 coverage," in partnership with UNESCO, and with funding from the World Health Organization and UNESCO's Multi-Donor Programme on Freedom of Expression and Safety of Journalists.
The webinar attracted 770 people from 85 countries and was held in English with simultaneous interpretations into Arabic, French, Portuguese, and Spanish. It was also live-streamed in each of these five languages. The webinar explored the following topics: inequitable distribution of information, and ever-evolving data regarding COVID-19; mutations and variants of the virus; and global contexts for journalists covering new developments around the pandemic.
In September, the Knight Center held another special event: the Second Latin American Conference on Diversity in Journalism. The conference, which was held in Spanish, attracted nearly 800 registrants from throughout Latin America. The event was a successful follow-up to our First Latin American Conference on Diversity in Journalism, held in March 2021, and it was part of our ongoing efforts with Google News Initiative to support journalists interested in promoting diversity, equity and inclusion (DEI) in newsrooms and journalism in Latin America. These efforts have included two DEI courses, customized newsroom trainings, and a related ebook.
The second conference featured panels on Indigenous and Afro-descendant populations in Latin America; sexual diversity; migration; and new narratives, media and initiatives that promote DEI in Latin American journalism. The recordings of the conference panels are now available on YouTube as an ongoing resource.
LatAm Journalism Review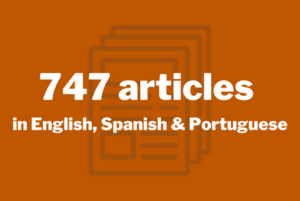 In 2022, the Knight Center continued to grow its trilingual news magazine, LatAm Journalism Review, which features in-depth, original reporting on press freedom and journalism innovations in Latin America and the Caribbean. The site also publishes a News Monitor — a compilation of headlines of the most important news related to journalism and press freedom published by news organizations in Latin America and the Caribbean.
Over the past year, LJR has published 249 original stories (for a total of 747 articles in English, Spanish, and Portuguese). Here's a look at some of the most interesting and important stories that the LJR team reported and published in 2022:
Additionally, LJR published a series of 14 articles that focused on journalists' safety in Latin America and the Caribbean. The series, which was funded by UNESCO's Global Media Defence Fund, featured stories about coverage of protests; reporting on violent conflict; the development of protection mechanisms for journalists; and the investigation and prosecution of violence against journalists.
We have since transformed the series into a trilingual ebook, "Protection of Journalists: Safety and Justice in Latin America and the Caribbean." The ebook can be downloaded for free in the Knight Center's digital library.
We hope you'll visit latamjournalismreview.org for more stories in 2023 and that you'll subscribe to our weekly trilingual newsletter.
****
The Knight Center's work — and our ability to offer free and low-cost training — wouldn't be possible without the generous support of our funders, partners, and individuals like you.
If you'd like to make a year-end donation to the Knight Center, (which is tax-deductible for U.S. residents), you are welcome to do so here.
We're grateful for the Knight Center community, and we look forward to interacting with you in the new year!