This resource page features course content from the Knight Center for Journalism in the America's massive open online course (MOOC) titled "The Power of Digital Audio Storytelling: From Podcasts to Voice Assistants." The four-week course took place from October 26 to November 22, 2020. We are now making the content free and available to students who took the course and anyone else who's interested in learning why one of the oldest storytelling forms is having a renaissance thanks to technological changes.
with support from:

The course was taught by Tamar Charney. She created and curated the content for the course, which includes video classes, readings, exercises, and more.
 The course materials are broken into four modules, along with an introductory module:
We encourage you to watch the videos, review the readings, and complete the exercises as time allows. The course materials build off each other, but the videos and readings also act as standalone resources that you can return to over time.
We hope you enjoy the materials. If you have any questions, please contact us at journalismcourses@austin.utexas.edu.
Meet the Instructors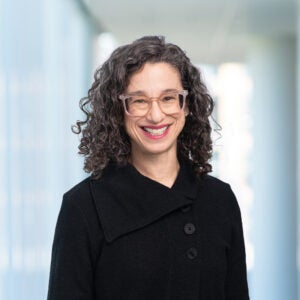 Tamar Charney is a Senior Editorial Director at National Public Radio (NPR) working on editorial strategy for emerging platforms such as apps and smart speakers including NPR's state of the art personalized listening app called NPR One. Charney was an executive creator of NPR's Coronavirus Daily which was the network's fastest growing podcast to date. She's an award winning journalist who has written countless radio reports and documentaries.
Prior to joining NPR in 2016, Charney was the Program Director at Michigan Radio where she managed on-air, online, news strategy, and operations. Before that she created and produced talk shows, documentaries, and news programs. She started at Michigan Radio in the late 1990's as a newscaster, reporter, and editor. She has held a variety of jobs at other public radio stations including WDET and WEMU. She served as the board chair of the Public Radio Program Directors association from 2014 - 2017.
On the side, Charney is a writer, photographer, and voiceover artist. Her photography and creative writing have been published by Midwestern Gothic, Michigan Quarterly Review, Equus Magazine, and other outlets. In late 2019 she mounted a solo photography exhibition Through a Russian Lens at the Argus Museum in Ann Arbor.
Charney holds a master's degree in telecommunications specializing in social effects of new media from Michigan State University and a BA from University of Michigan. She was the lead author on the chapter Uses and Gratifications of the Internet in Lin, C & Atkin, D.(Eds.) Communication Technology and Society (pp. 379-408.)
Before the pandemic, she gave talks and presentations at industry conferences worldwide about the confluence of technology and journalism.
Why audio, why now?
We look at the reasons audio storytelling has been able to endure.
In this module you will learn:
Why audio
The enduring power of audio
A lean back medium adapts to a lean forward world
A conversation about how audio storytelling has persisted with Julie Shapiro, Executive Producer of Radiotopia from PRX
Video Classes
1. The power and adaptability of audio storytelling
2. New technology launches an audio renaissance
3. Interview: Julie Shapiro of Radiotopia discusses audio storytelling's enduring appeal
Readings
Fundamentals of great audio storytelling is the key to the future
We break down the fundamentals of great storytelling - fundamentals that endure
regardless of the technological platform.
In this module you will learn:
Emotion and the heart of audio storytelling
Writing for the ear
Audience of 1
Sound design practitioner interview with Ramtin Arablouei, co-producer and co-host, Throughline
Making the transition from print to audio with practitioner interview Hannah Allam, correspondent, NPR
Video Classes
1. The fundamentals of audio storytelling
2. Writing for the ear
Watch Video Transcript
3. Interview 1: NPR reporter Hannah Allam discusses her journey from print to audio
4. Interview 2: Sound design 101 from Ramtin Arablouei of the podcast Throughline
Readings
The podcasting (r)evolution
Podcasting has changed the game in how audio is produced, consumed, & thought of.
In this module you will learn:
How podcasting injected new life into audio
From basements to big business: guest interview with Nick Quah, founder of the podcasting newsletter Hot Pod
Quirky guys in a garage to daily news with guest interview with Samantha Henig, Formerly New York Times now Buzzfeed News.
Video Classes
1. Podcasting revolutionizes how we listen
2. Interview 1: Nick Quah breaks down how podcasting has evolved
3. Interview 2: Samantha Henig of Buzzfeed News discusses the rise of news podcasts
Readings
Optional Resources
1. Reuters Institute: News Podcasts and the Opportunities for Publishers by Nic Newman and Nathan Gallo
*This report by Nic Newman and Nathan Gallo explores the growth of news podcasts across the world. Please read the sections Comparing the Production of News Podcasts across Five Countries and Deep Dive into Daily News Podcasts. There's a lot of great information in the whole report, but the rest of it is optional reading.
2. Transom: Podcasting Basics, Part 4: Hosting & Distribution by Jeff Towne
*This article is a great primer on how to actually put your podcast into the world. It goes over the basics of rrs feeds and podcast hosting. But the entire Podcasting Basic series from Transom may be worth reading through depending on your level of familiarity with the use of audio equipment. https://transom.org/tag/podcast-basics/
Big tech embraces the oldest communication form
Technology has opened up the opportunities for audio storytelling.
In this module you will learn:
How audio is encountered on listening platforms from linear to on demand and algorithms in between
Voice assistants and Interactive audio storytelling practitioner interview with Nicky Birch, Commissioning Exec BBC Voice + AI
Voice platform adoption internationally, interview with Ezra Eeman from European Broadcasters Union
Your platform or mine? How will you get your audio to audiences
Video Classes
1. New technology is creating new ways of listening
2. New technology is creating new ways of telling audio stories
3. Interview 1: The BBC's Nicky Birch shares her experience working with interactive audio storytelling
Watch Video Transcript Link List Playbook
4. Interview 2: Ezra Eeman of the European Broadcasters Union discusses how voice platforms and AI are changing listening
5. Finding an audience
Readings